What are the benefits of hyaluronic acid?
Discover all the benefits of hyaluronic acid and its ability to improve the appearance of your skin with its moisturizing, anti-aging, and beautifying properties.
What are the benefits of hyaluronic acid
and how is it used?
Are you looking to keep your skin young and hydrated? Do you want to delay the signs of aging? Or are you trying to correct a physical complex or improve your appearance?
Hyaluronic acid, the star ingredient in beauty care, can help you. In this article, we'll tell you all about the benefits of hyaluronic acid and how it can occupy the top spot in your beauty routine.
What is hyaluronic acid?
Hyaluronic acid is a molecule that's naturally present in the human body. It exists in many organs and bodily fluids but it's undoubtedly in the skin that its presence is most important.
How does hyaluronic acid work on the skin?
To better understand how hyaluronic acid works, it is important to understand the composition of the skin. It is divided into 3 layers, from the outermost to the innermost:
epidermis, dermis, and hypodermis. All with specific properties. Hyaluronic acid is present in significant quantities in the dermis where it provides hydration to this layer of the skin.
With collagen and elastin, hyaluronic acid is essential for maintaining structure in the layers of the skin.
So how do these 3 elements combine? Hyaluronic acid plays an essential role in the skin by activating the synthesis of collagen. It also helps to stop the negative effects of free radicals, which can destroy collagen, therefore leading to premature aging of the skin. Hyaluronic acid is inseparable from collagen, especially since it allows it to bind to elastin, another major component of the skin. These three elements are crucial for maintaining the skin's integrity. With age, the body synthesizes these components less and less effectively.
In concrete terms,
what are the benefits of hyaluronic acid
for our skin?
Hyaluronic acid has super moisturizing powers. It has the capacity to retain 1,000 times its weight in water. This molecule retains water in tissues like a sponge and fills intercellular spaces, making it particularly effective in combating issues related to skin dehydration.
Hyaluronic acid accelerates the skin's healing process, particularly in wound recovery.
Why is maintaining hyaluronic acid production
levels so important for our skin?
A young person has high levels of hyaluronic acid in the dermis. That's why young people's skin is supple and plump. With age, in addition to both intrinsic (genetic, cellular aging, etc.) and extrinsic (UV, pollution, etc.) factors, we see a decrease in hyaluronic acid production and a loss of this molecule's function. This leads to a chain reaction of:
Reduced water content
Decreased collagen production and skin resiliency
Increased skin damage
This becomes even more noticeable, given that after the age of 30, hyaluronic acid production declines by 1% each year. And by age 50, we've lost 50% of its initial levels.
As a result, the skin's hydrolipidic film is altered and no longer plays a protective role against external damage. The skin dries out, and the first signs of aging (thin, sagging skin and loss of volume) appear. This is where the external addition of hyaluronic acid comes into play.
So, how is hyaluronic acid used?
As you may have guessed, hyaluronic acid is mainly used to fight aging. For several years now, cosmetics brands have been using it, and it can be found in many forms: lotions, masks, creams, lip balms, etc. This is an important but superficial use, whereas in aesthetic medicine hyaluronic acid plays its biggest role by being injected deeper into the skin!
Hyaluronic acid injections to fight aging skin
Hyaluronic acid injections are a safe and effective way of filling in wrinkles. Using a syringe or cannula, the practitioner injects the product into the dermis. Due to the volumizing properties of hyaluronic acid, wrinkles are filled in.
Hyaluronic acid can be used to fill in:
Forehead wrinkles
Frown lines
Crow's feet
Lower eyelid wrinkles
Lip wrinkles
Nasolabial folds
Marionette lines
Hyaluronic acid injections to improve your beauty
quotient
Would you like more attractive lips? This is also a job for hyaluronic acid. Beauty perception is unique to everyone, and in this regard, we assist you in achieving your ideal look. Injected into the upper and lower lip, hyaluronic acid adds volume to improve the shape and contour of the lips. Make sure to speak to your practitioner who will give you advice based on your desires and your body shape.
Hyaluronic injections to correct a physical
complex
Are you not satisfied with the appearance of a certain part of your face? Your nose? Your jaw? Your lips? We all have complexes that can lead to dissatisfaction and a loss of self-confidence. But this is not the end of the road. At FILLMED we believe that what you feel on the inside should radiate from the outside. This is why we claim the mantra: dare to be you! We help you to feel better about what makes you feel who you are by enhancing, not changing, or removing, what you already have.
Hyaluronic acid (once again) due to its elastic and volumizing capacities, can be used to fill or modify certain parts of the face without having to go through surgery.
The benefits of hyaluronic acid injections are numerous:
The product is well tolerated since it already exists within the body. The risk of developing an allergic reaction is extremely low.
The product reabsorbs naturally within several months.
The results of the injections are almost immediate.
Pain is minimal.
An injection session is quick, taking less than an hour.
Normal activities can resume immediately. No need to block off an entire afternoon on your calendar.
If you'd like to learn more, read our article about what to expect at a hyaluronic acid injection appointment.
Hyaluronic acid at FILLMED
Are you looking for information regarding hyaluronic acid or perhaps to take the plunge? You've come to the right place! At FILLMED we developed an expertise on this precious molecule. For 45 years, the company has been constantly reinventing itself to develop medical, medispa, and cosmetic products to treat the causes and consequences of aging skin. We help thousands of women and men around the world feel better about themselves and embrace who they are. Our specialty? Hyaluronic acid, of course!
At FILLMED, hyaluronic acid is available in almost all our products, grouped into three main ranges:
NCTF®135 HA, the must-have anti-aging: made up of hyaluronic acid and a complex poly-revitalizer made up of 59 ingredients, NCTF®135 HA prevents signs of aging. This injectable formula helps to remove wrinkles, boost the production of collagen, and improve the glow of your skin.
ART FILLER®, haute sculpture for restoration and beautification of the face. An exclusive collection of hyaluronic acid-based fillers with lidocaine designed to smooth out superficial to deep wrinkles, plump up the lips, and create or restore the volumes and contours of the face.
Skin Perfusion is an innovative cosmeceutical range specially designed to maintain and enhance the results of cosmetic procedures. Formulated with high-grade ingredients in optimal concentrations, including hyaluronic acid, Skin Perfusion combines in-office and home treatments to address the concerns of aging skin (hydration, glow, wrinkles, firmness, blemishes, pigmentation, eyes, post-treatment, etc…).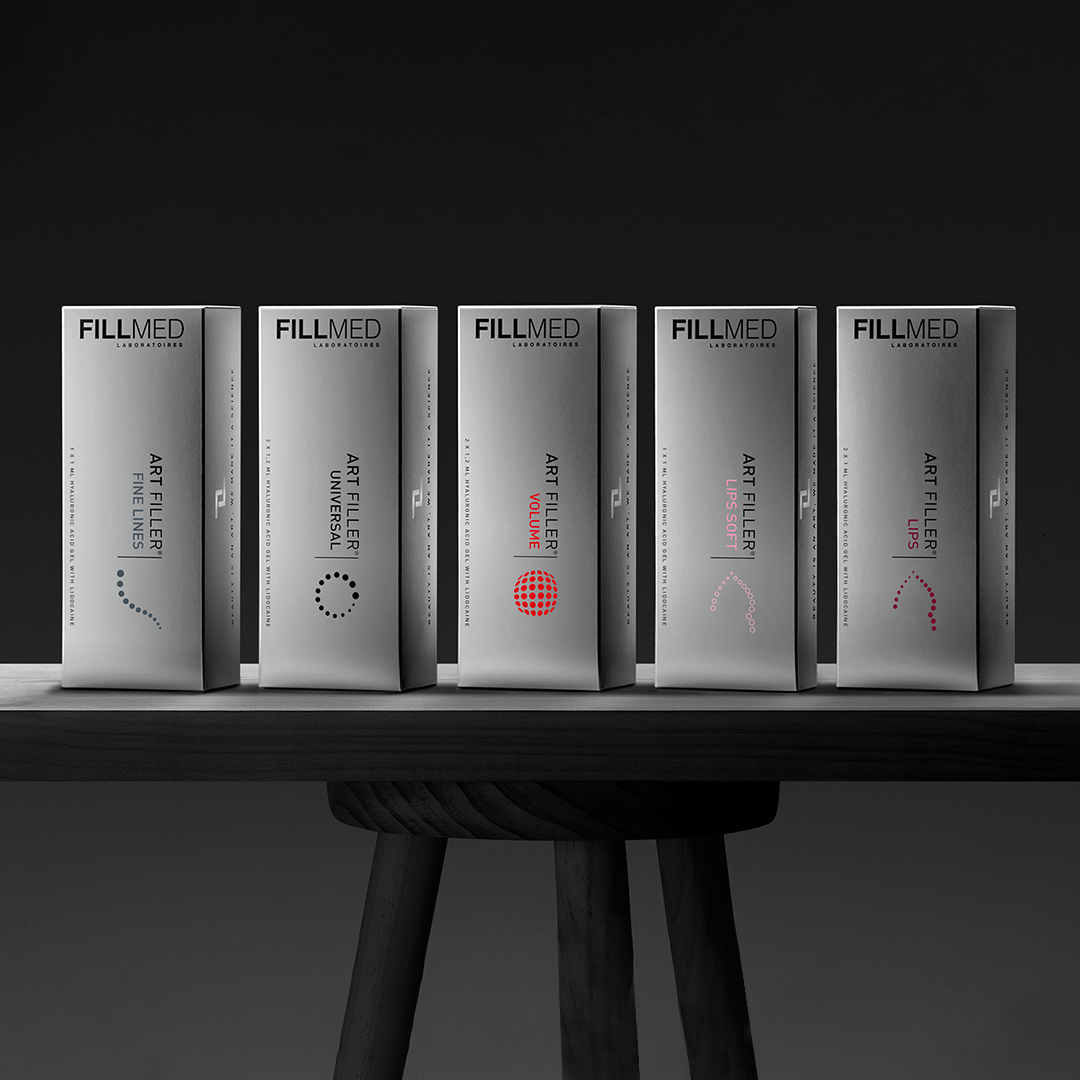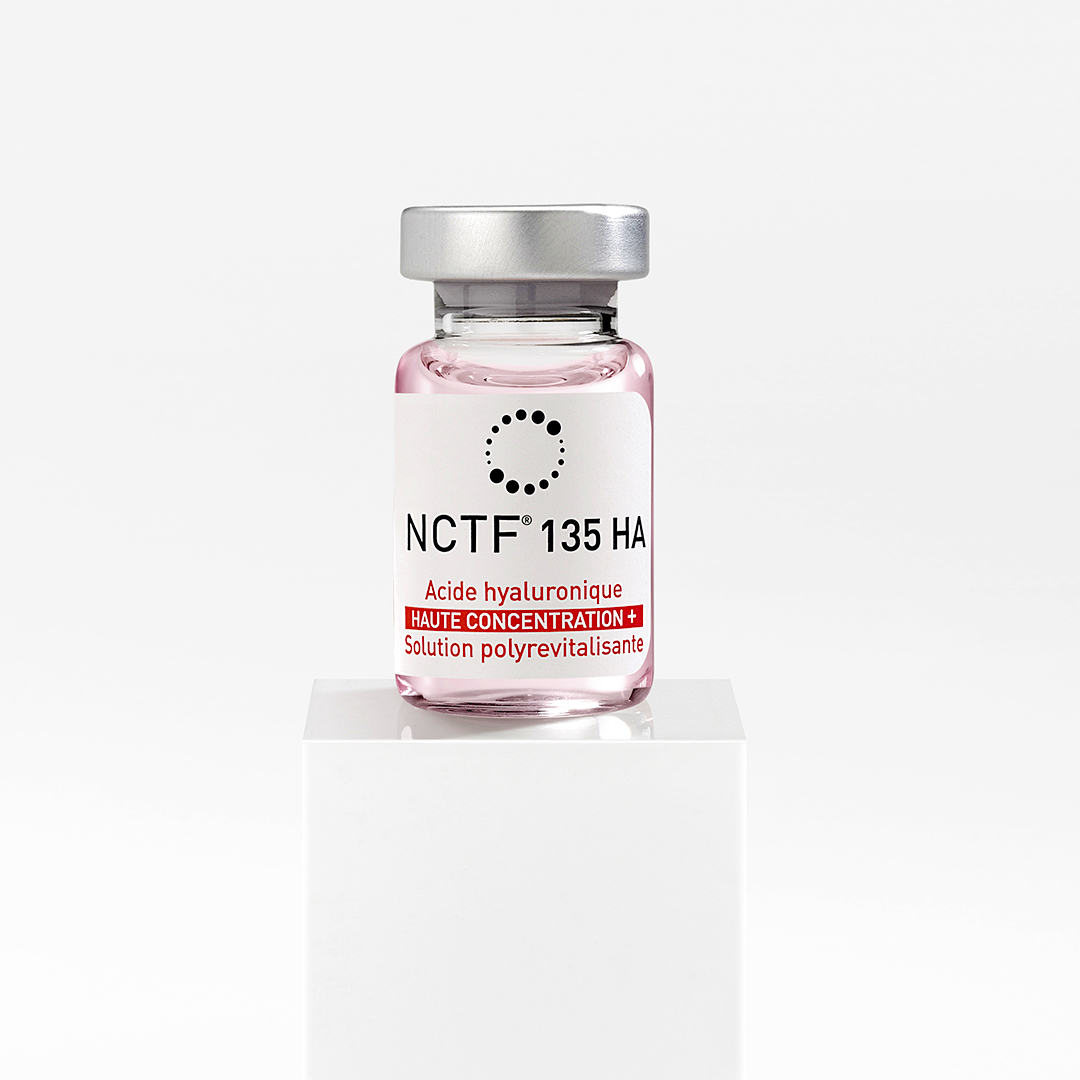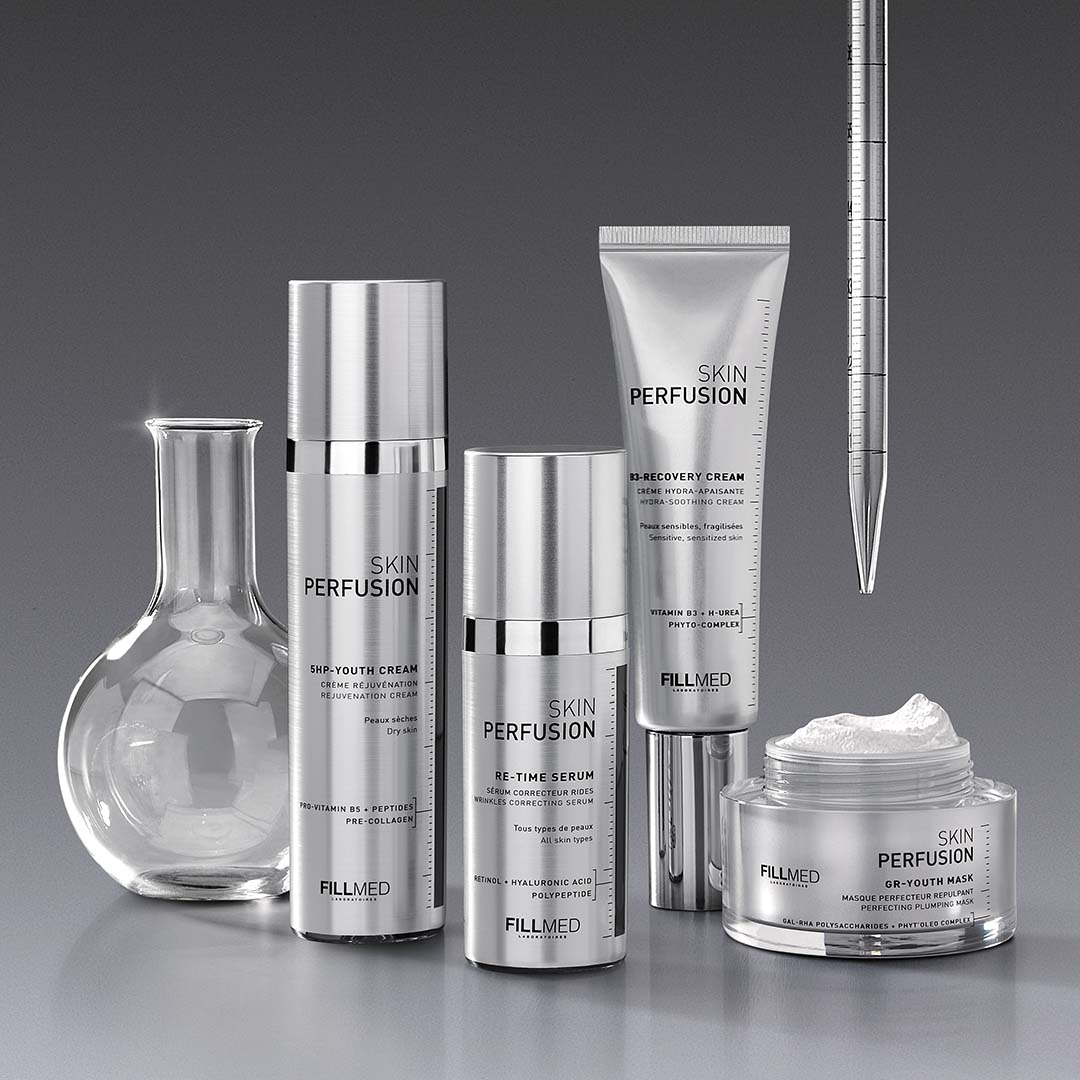 STAY UPDATED FROM LAST FILLMED's INNOVATION
* Clinical trial of 3 sessions of NCTF® 135 HA on healthy volunteers, 2019. Randomized controlled study, multicenter (10 centers) and prospective study. 147 subjects included. 3 sessions spaced out by 21 days on face, neck & decollete. Clinical scoring + instrumental measures. (HEBE2 Study).
To learn more about FILL-MED procedures, products and new DARE TO BE YOU campaign, go to Instagram !