Revitalize Skin Quality with NCTF
A unique formula that remains unequalled for improving skin quality
NCTF® WHAT IS A PERFECT SKIN ?
Perfect skin is above all, healthy skin. Notwithstanding any fine lines and wrinkles, it is the quality of the skin that holds the secret to beautiful, radiant and healthy skin.
Each woman has her own idea of beauty… but for most, ultimate beauty manifests itself when the body and soul are in harmony – this is when enduring, natural beauty and radiance shine from within.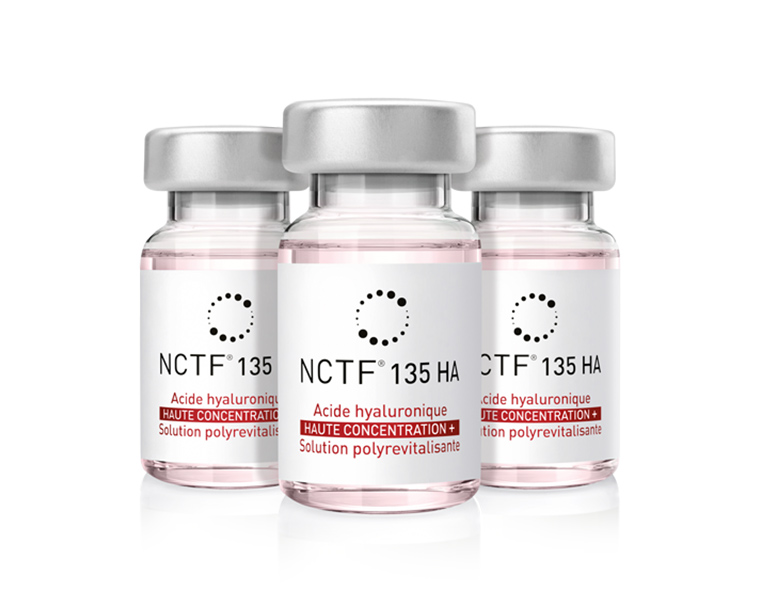 A PERFECT SKIN ? THE EXPERT'S ANSWER
For the expert Dr. Valerie Philippon, ultimate beauty is not only associated with a regular beauty routine but also is determined by lifestyle, nutrition and physical exercise choices. Here are some keys to having beautiful skin:
Moisturize
Protection against daily aggressions (pollution, free radicals …)
A balanced diet
Drinking a sufficient quantity of water
Providing essential nutrients to the skin so that it can function properly
Choosing the right, regular beauty routine
Regular physical activity
A good night's sleep!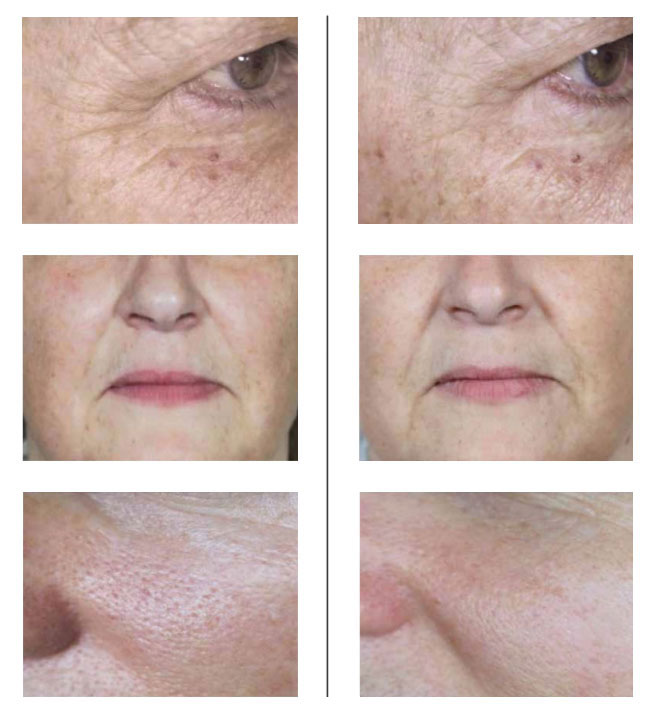 THE NCTF® REVITALIZATION
Indications : Fine lines – Hydration – Radiance – Elasticity
NCTF® 135 and NCTF® 135 HA are indicated to be injected in the epidermis or dermis in the following areas :
Face (including periorbital area), Neck, Décolleté area, Back of the hands, Internal face of the arms.
| | | | |
| --- | --- | --- | --- |
| | | | |
| | NCTF® 135 | NCTF® 135 HA | NCTF® BOOST 135 HA |
| | Injectable medical device | Injectable medical device | Sterile Cosmetic for topical use |
| INDICATION | Fine lines, radiance | Fine lines, hydration, redensification | Fine lines, hydration, skin texture |
| HA CONCENTRATION | 0,025 mg/ml | 5 mg/ml | 5 mg/ml |
| COMPOSITION | Free HA: 12 vitamins + 24 amino acids + 6 co-enzymes + nucleic acids + 6 minerals + 6 others | Free HA : 12 vitamins + 24 amino acids + 6 co-enzymes + nucleic acids + 6 minerals + 6 others | Free HA : 12 vitamins + 24 amino acids + 6 co-enzymes + nucleic acids + 6 minerals + 6 others |
| PROTOCOL | 3 sessions spaced out by 15 days + 2 sessions spaced out by 1 month | 3 sessions spaced out by 15 days + 2 sessions spaced out by 1 month | 3 sessions spaced out by 15 days + 2 sessions spaced out by 1 month |
| PACKAGING | 5 x 3 ml vials / Available with 30 G and 32G injection needles | 5 x 3 ml vials / Available with 30 G and 32G injection needles | 10 x 3 ml vials |
| | | | |
| | | |
| --- | --- | --- |
| | | |
| | M-HA® 10 | M-HA® 18 |
| INDICATION | Filling of small wrinkles, hydration, radiance and elasticity | Fine lines, intense hydration |
| HA CONCENTRATION | 10 mg/ml | 18 mg/ml |
| COMPOSITION | Free HA | Free HA + Glycerol 20 mg/ml |
| PROTOCOL | 3 sessions spaced out by 1 month | 3 sessions spaced out by 1 month |
| PACKAGING | 3 x 3 ml vials / Available with 30 G and 32 G injection needles | 1 x 1 ml pre-filled syringe + 30 G injection needles |
| | | |